For contractors, changes to the IR35 legislation may have raised more questions than answers.
We're here to help you with the IR35 reform that came into force in April 2021. It's important end-clients and contractors alike understand what the rules are and how they are impacted by them. Here at Quanta, we are making conscious efforts to assist all contractors and clients with any questions or concerns they may have.
Download our IR35 Contractor and Client guides below: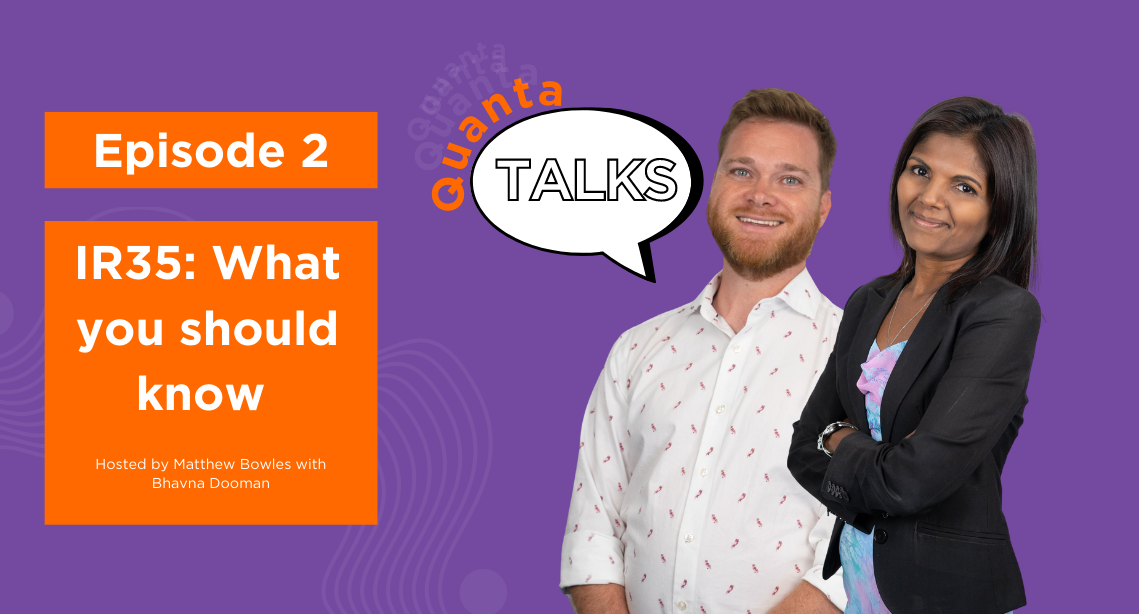 Listen to our podcast
What you should know about IR35
Managing Consultant, Matthew Bowles speaks to our Compliance Group Head, Bhavna Dooman about all things IR35. Including whose responsibility it falls under and what a contractor can do if they're unhappy with their determined status.
IR35 in 2022: The latest update
At Quanta, we've been keeping abreast of developments in the legislative changes and how they might impact you, preparing internally for the changes to take place and ensuring both our clients and contractors are aware of the potential impacts.
IR35 Q&A with industry expert Andy Vessey
Our in-house IR35 expert, Bhavna Dooman held a Q&A with Andy Vessey- Head of Tax at Larsen Howie. He shares his knowledgeable answers to some commonly asked and extremely important questions regarding the impending IR35 reform.
What is IR35 and how will it impact me?
Read our helpful guide explaining the changes to IR35 regulations and how it will impact you.
An IR35 Q&A with our in-house expert
At Quanta, we're well aware of the latest changes to IR35 regulations and how these may impact you. We've appointed Bhavna Dooman, our Contracts and Compliance Manager, to oversee the IR35 process we're undertaking as a business.


IR35 Webinar
We hosted a webinar to explain the Off Payroll Working rules. The webinar discussed the following topics:
The evolution of the off payroll working rules
Determining the status of a contractor
What the changes will mean for contractors
Disputes and queries
A discussion surrounding the recent survey responses received
Perspective and feedback from contractors on the impending changes to the legislation
CREATE

JOB ALERT
Looking for a new contract or permanent role? Keep up to date with all the latest vacancies relating to your own personal preferences- straight into your inbox.
Send us your CV
Upload your CV and select your preferred industry so we can ensure your CV goes to one of our specialist recruiters.

Contact us
Our dedicated in-house expert, Bhavna Dooman is here to help you as a contractor or client, with any of your IR35 needs. Email her today using the button below or give her a call on: 01442 860 523.